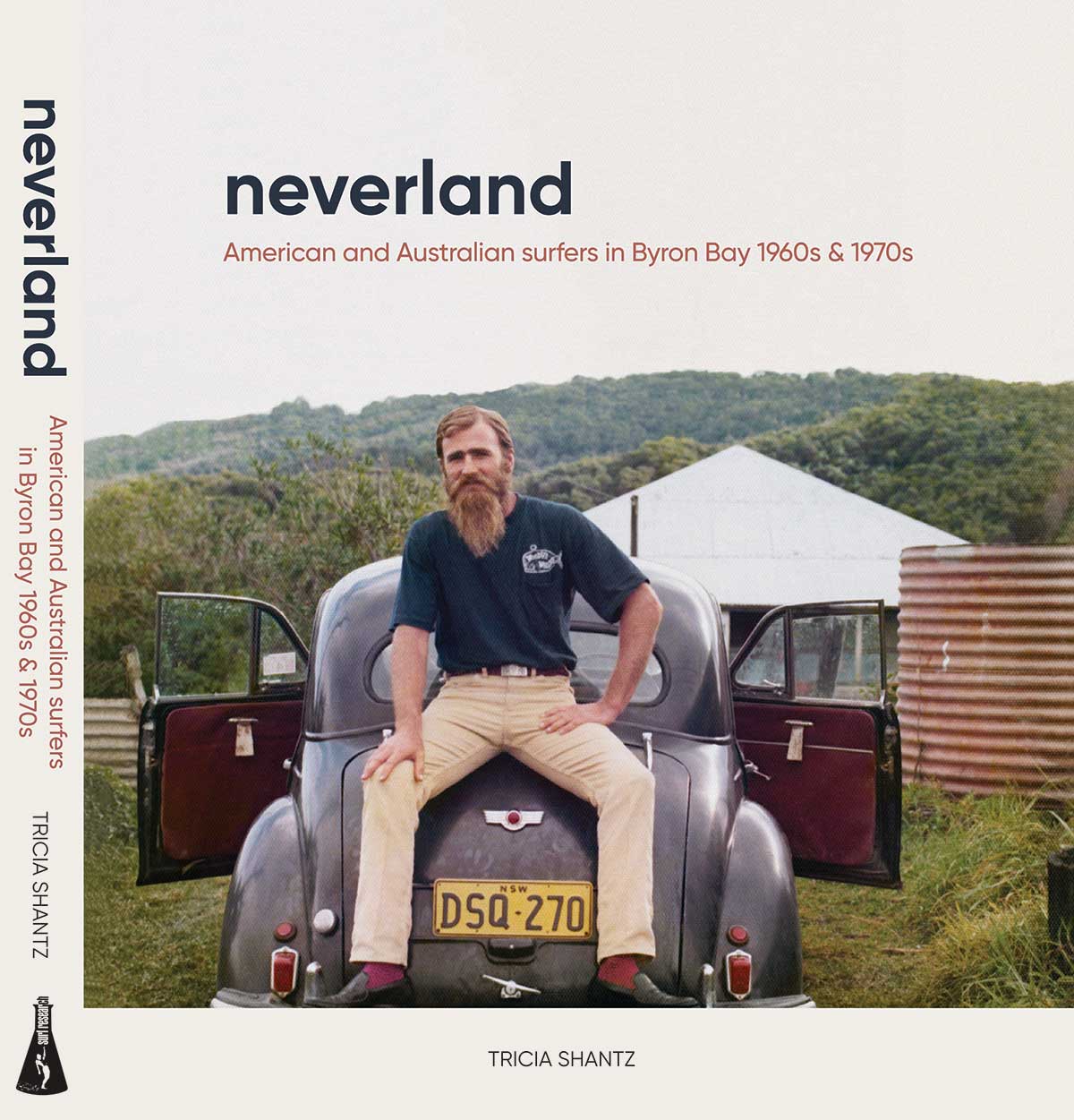 NOW AVAILABLE
Neverland
American and Australian surfers in Byron Bay 1960s & 1970s
It is the story of the surfers, American and Australian, who made Byron Bay their home in the 1960s and 1970s. It is a social history of a time in Byron that changed its history forever. Culture wars. Freedom, rebellion, they believed they were going to change the world.
"Byron Bay is rich in stories: something has happened in every corner, behind every tree, on (and under) every blade of grass…and of course in every take-off spot. This book is a treasury of those tales that give Byron its unique living spirit. To read it is to feel that you have been welcomed into a tribe."
Malcolm Knox, Australian journalist, author and surfer
"Tricia has successfully woven personal stories of drama and daring into a layered social history of the far north coast seen through the eyes of a community of American and Australian surfers tied through a bond of understanding and respecting a feeling. A feeling born out of the joy we experience playing in the waves, how simple and yet how powerful that connection can be."
Simon Baker is an award winning actor and director, a surfer and north coast resident.
RUSTY MILLER SURF
Rusty Miller Surf offer personalised / individual learning that is specifically tailored to meet the needs of the person. We are a small, family-run business that have been teaching surfing for decades in Byron Bay. We teach all levels, from beginners to experienced surfers, who want to Improve their surfing which may just require some tweaking. We also can guide experienced surfers to the breaks in our area.
Besides catching and standing upon waves, Rusty Miller Surf Introduces you to the world of surfing: relates knowledge, attitude and philosophy. At Rusty Miller Surf, you learn about surf culture and the magic of connecting with nature through surfing.
Rusty Miller, the principal coach, is a well-known and respected local surfer, who has lived in Byron Bay since the '70s. He has been involved in all facets of the surf industry: from competition to films to media to inventor. But, his greatest love is passing on the love of surfing a wave and seeing people's joy in that experience.
Rusty Miller Surf holds an exclusive license for teaching 'one-on-one' at Watego's Beach, at the tip of the Cape Byron Headland, Australia's most easterly point and also at the iconic surfing beach The Pass. They are in the National Park and the best places on the planet to learn surfing.
Rusty Miller Surf has inspired and assisted many to ride waves safely and to harmonize with the energy of the ocean.
There is so much more happening in these surf sessions than just sliding on to the waves off Cape Byron. Come and join us to enhance your surf through life.
For further information and bookings please call Rusty on 0422 099 684 or send us an EMAIL.