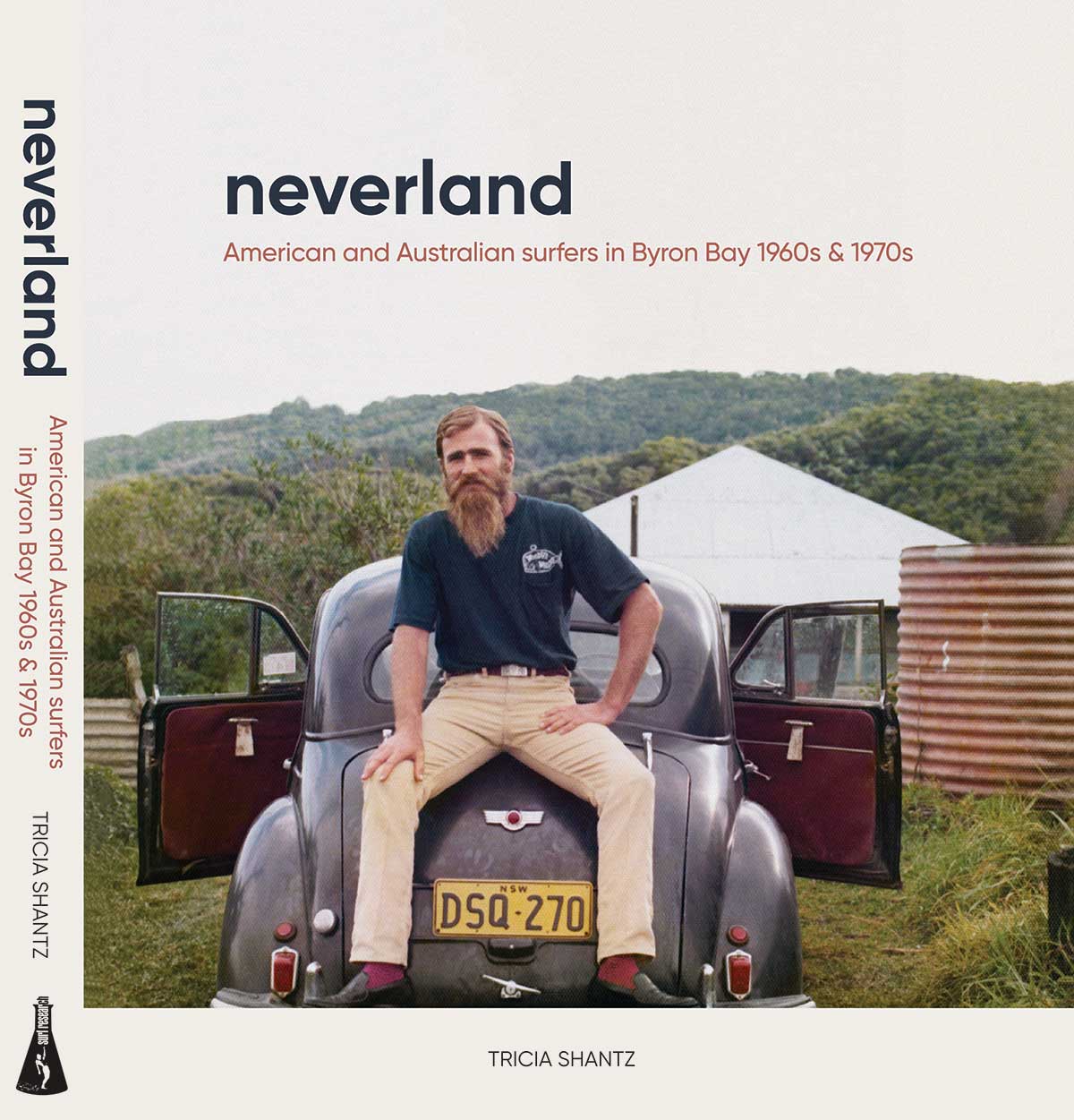 NOW AVAILABLE
Neverland
American and Australian surfers in Byron Bay 1960s & 1970s
It is the story of the surfers, American and Australian, who made Byron Bay their home in the 1960s and 1970s. It is a social history of a time in Byron that changed its history forever. Culture wars. Freedom, rebellion, they believed they were going to change the world.
"Byron Bay is rich in stories: something has happened in every corner, behind every tree, on (and under) every blade of grass…and of course in every take-off spot. This book is a treasury of those tales that give Byron its unique living spirit. To read it is to feel that you have been welcomed into a tribe."
Malcolm Knox, Australian journalist, author and surfer
"Tricia has successfully woven personal stories of drama and daring into a layered social history of the far north coast seen through the eyes of a community of American and Australian surfers tied through a bond of understanding and respecting a feeling. A feeling born out of the joy we experience playing in the waves, how simple and yet how powerful that connection can be."
Simon Baker is an award winning actor and director, a surfer and north coast resident.
RUSTY MILLER SURF
Rusty, and his daughter Taylor, also a well-known and respected local surfer, offer personalised / individual teaching that is specifically tailored to meet the needs of the person. The first session is not just standing up and riding the board, it is an assessment and a lesson about surfing in all its ways. Besides catching and standing upon waves, Rusty Miller Surf teaches procedures of safety and relates knowledge, attitude and philosophy of the world of surfing. At Rusty Miller Surf, you learn about surf culture and the magic of connecting with nature through surfing.
Rusty Miller Surf holds an exclusive license for teaching 'one-on-one' at Watego's Beach, at the tip of Cape Byron Headland, Australia's most easterly point and also at the iconic surfing beach The Pass.
Rusty Miller Surf has inspired and assisted many to ride waves safely and to harmonize with the energy of the ocean.
Rusty's daughter Taylor, who has been passed on the Aloha surfing tradition, is available to teach with Rusty for families and/or private lessons. Taylor is a born and bred Byron Bay surfer and a fully qualified Surfing Australia coach. You can read more about Taylor HERE.
Rusty has taught hundreds of students over the years not only about the act of surfing but also its culture, history and Aloha Spirit. Together with his well surf travelled daughter Taylor they have developed their own method of personalized instruction, which will advance and enhance your surf skill and appreciation levels.
For the beginner surfer the sessions show one how to learn basic principles of posture, water knowledge and personal safety. For those with some experience there is always room for improvement through good reflection while being accompanied and studied in the surf. There is so much more happening in these surf sessions than just sliding on to the waves off Cape Byron. Come and join them to enhance your surf through life.